Fortaleza, Ceará - information for travelers
Read about the nationalities of foreign visitors and their opinion about Fortaleza.


Places to see in Fortaleza.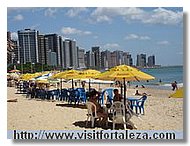 The beaches in Fortaleza and Ceará.
Tourists find something to have fun on the beaches of Fortaleza all day long. Take a bath early in Praia do Futuro, stroll along Meireles waiting for the night to come, dance the night away in Iracema.
Many visitors take a few days to visit beaches in Ceará which became worldly famous for their beautiness, such as Jericoacoara and Canoa Quebrada. To get there, it is possible to rent a car or to go with a tour.


Handicraft Shopping in Fortaleza
There are handicraft shops all around the city, but the best places to go are the Feirinha da Beira-Mar (Beach Fair) and the Mercado Público (Public Market). These places have a large number of stalls (fair) and shops (market), and competition drives prices down.