Fortaleza International Airport Pinto Martins
The International Airport Pinto Martins was opened in 1998, and was designed to operate for the next 50 years.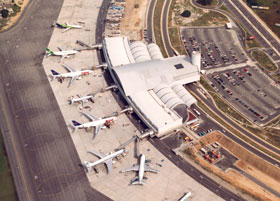 Photo:
Infraero
The passengers terminal is a four-storey building, all with air conditioned.

At the basement, there is a parking loot with capacity of one thousand vehicles; also at the basement, there are a few ATMs of the major Brazilian banks, some of which allow cash withdraws with international credit cards.
First floor: arrivals of regional and international flights; also: check in counters, ticket offices, car rentals, tourist information, children´s court, Civil Aviation Department (this is where you report your complaints of the air carrier).
Second floor: boarding gates, for both national and international flights; also, shops sell souvenirs and restaurants offering snacks and meals.
On the fourth floor, one can have a drink with a panoramic view of the airport.

There are taxis outside the gate of the first floor. Urban buses run at the basement, outside the parking loot.

The table below shows the distances between the Pinto Martins airport and some of the points of interest in Fortaleza.


Below, some photos of Fortaleza international airport:
Recently opened, the airport has a modern architectural design. There are four floors: basement (public transportation), ground floor (check-in, departure and arrival gates), first floor (shops and restaurants) and terrace (panoramic view and some shops, including a simple cyber-cafe and a chapel).

Above, photos of the main hall, the restaurants court and the panoramic terrace. Restaurante Palheta provides self-service food for a very good price.

Taxis are outside the ground floor gate; prices are fixed beforehand (the meter is not turned on). From the airport to anywhere by the beach, price (March 2006) was R$ 28, from 6 am to 8 pm (at night, a surcharge of 20% apply).
Buses are in the underground floor. To reach this floor, get out the ground floor gate and take the elevator (there is no access from inside the airport). There are no direct buses from the airport to the beaches.
See also: Aeroporto de Fortaleza (in Portuguese), maintained by INFRAERO, the official Brazilian Airports Agency.