Ubajara Park

Fortaleza


Ceara


Tourism in Ceara


Tourism in Fortaleza


Environment Protected Areas


The Ubajara National Park is located in the municipalities of Ubajara, Tianguá and Frecheirinha, in the West border of the State of Ceará. Total area of the park is 6.299 hectares (15,565 acres), and total perimeter is 63.604 meters (39.5 miles).
The Park is administed by IBAMA, the Brazilian Agency for Environment; read the official page of IBAMA about the Ubajara National Park and some photos published on this article about Ubajara (in Portuguese only).
Address for mail is:
Parque Nacional Ubajara
Rodovia da Confiança, 187, CE-187, Area Rural.
CEP 62.350-000. Phone: 55 88 3634 1388

There are minimal fees to enter the Park (about R$ 1 per person) and to take the cable car (about R$ 4 per person).



View Larger Map

The Park is located about 300 km from the capital Fortaleza). However, road conditions may not be good, causing the trip to last longer than expected. A good option is to spend the night in the city of Sobral (about 100 km from Ubajara), and reach the Park early in the morning.


Ubajara Cave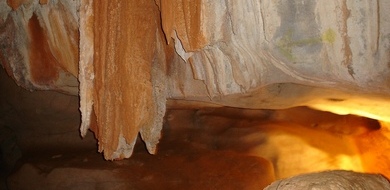 Ubajara Cave
Ubajara Cave is the main attraction at Ubajara National Park. The beautiful rooms and rocky formations impress because of their singular beauty. Stalactites and stalagmites are everywhere, a spectacle formed by water and time.

The cave has 1,120 sq meters, but only 420 meters are open for visitors (the deeper areas are open to researchers only). All in all, 9 rooms can be discovered by visitors.
Guides take visitors into rooms with interesting names, such as the Rose Room, Curtain Room and Picture Room. Each one has peculiar characteristics that justify their names. The lighting makes the walk safer and helps seeing the natural formations; during the tour, the guides turn off the light to show visitors the true colors (that's to say: no colors at all) of the inside of the cave.


Ubajara Cable Car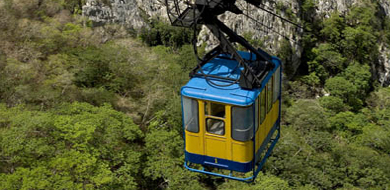 Ubajara Cable Car, at the Ubajara National Park
Visitors have two options to reach Ubajara Cave.
One option is to take the ecologic tracks, duly signaled, with qualified guides. Walking up the tracks takes about two hours, passing inside the exhuberant forest and by waterfalls.
The other option is taking the cable car and enjoying the landscape of Ubajara National Park. 450 meters separate the high cable car platform, from which there is a spectacular view of the region, and the entrance of the cave. During the descent, a quick stop to enjoy the landscape. The cable car was built in 1998 and can take up to 10 people at the same time.

Back to Top