Ecologic tourism

Fortaleza


Ceara


Tourism in Ceara


Tourism in Fortaleza


Both History and Geography of Ceará explain why the State is an excellent area for ecologic tourism.
For centuries (actually, until as late as just a few decades ago), Ceará didn't have much to be explored by would-be settlers. Thanks to this, the State had a large part of its natural vegetation preserved. A good part of the State is in the semi-arid region, but there are extense areas of forests and mountains, ideal for ecologic trails.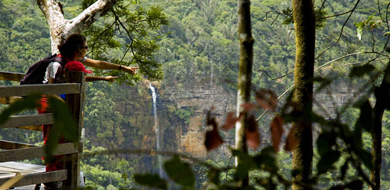 Ubajara National Park, at the West border of Ceara
The diversity of ecosystems allows this kind of tourism to take place all over the State and provide tourists with different sights in each region. Baturité Mountain Range is a highlight in this segment, offering waterfalls, lots of green areas and tracks where one can see birds, orchids and other natural beauties. Ubajara National Park is another option for Ecologic Tourism if you are visiting the Ibiapaba Region. The Central Backwoods (Sertão Central), with its Monumental Valley and the Cariri Region with tracks in the Araripe National Forest are also attractions.

Walking along the most beautiful landscapes is one of the simplest ways to become familiar with nature; full of well-structured tracks, Ceará is the ideal place for this activity. Besides trekking, visitors can enjoy horseback riding, fresh water and ocean diving, boat rides or just admiring nature, a pleasure which is renewed all the time.

Turning to natural environments, ecologic tourism is characterized, especially, by interaction between man and nature. It is also known as nature-tourism, going beyond observation and allowing visitors to have an ecologic and scientific understanding of the natural environment. This kind of tourism interacts with natural and cultural heritage in a sustainable way, and encourages its conservation, helping to forge an environmental awareness, through the interpretation of the environment and promoting the well being of the population involved.
Here again, because the growth of the Economy took place only recently, Ceará has an advantage: until recently, most people in the State had to make a living off of the natural resources; so, many people are conscious of the importance of preserving Nature.

Read also: National Parks and Protected Areas in Ceará.