Juazeiro do Norte

Fortaleza


Ceará


Cities of Ceará


Distance from Fortaleza: 565 km (351 mi); notice that Juazeiro is just 20 km distant from Crato, another important city of Ceara.
Juazeiro is the name of the tree which produces 'juá', a medicinal plant used in the composition of shampoos, tooth paste and some medicines.
It is interesting to notice that, even though the city is called Juazeiro do Norte, which means Juazeiro of the North, the city is actually located in the Southern area of Ceará; this happens because there is another city called Juazeiro in the State of Bahia, which is located further South of this Juazeiro do Norte.
Population: 232,000 inhab.


View Larger Map


The second most economically developed city in Ceará, Juazeiro stands out also for its religiousness. Every year, thousands of devout pilgrims from many northeastern states visit Juazeiro do Norte to take part in the festivities that worship Padre Cícero Romão Batista, a man who's called a Saint by many populars.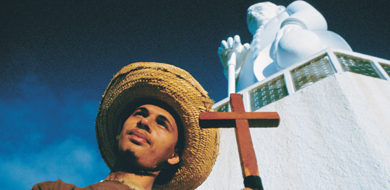 Pilgrim stands before the Padre Cicero statue
At least four times a year, Juazeiro do Norte becomes the popular religious center in the State.
There are pilgrimages on March 24th and July 20th, dates of birth and death of Padre Cícero; in the first half of September, when there is a party for the patroness Our Lady of Pain and on the Day of the Dead, November 2nd. The pilgrimage for Our Lady of Candeias is another important religious event in Juazeiro do Norte.
The parties attract more than two millions pilgrims every year, making this town the third greatest religious pilgrimage destination in Brazil.

The main tourist spots in town are Horto Mountain (where there is a 25-meter high statue of Padre Cícero), the Northeastern Popular Culture Live Museum, the Holy Grave, the Wall of the 14th century war and The Holy Path. The Heart of Jesus Shrine, Our Lady of Pain Main Church and Our Lady of Perpetual Help Chapel are also tourist places visited by the pilgrims. Padre Cícero's Memorial holds a collection of photos and objects related to the priest's life. Read more about the biography of Padre Cicero and Monuments to Padre Cicero.

Besides religiousness, the local population preserves aspects of culture, such as handcraft. At Mestre Noza Popular Culture Center, one can watch artisans making wooden pieces to be commercialized. At Mãe das Dores Artisan Association, decoration and household objects are produced and commercialized. Juazeiro do Norte is also an important cattle and agriculture center and produces shoes and gold-plated items. Big events are organized in the region, such as the Cariri Shoe Technology Fair and the Cariri Business Fair.

The cultural excitement is another tourist attraction visitors can experience in Juazeiro do Norte (read more about cultural tourism in Ceara). Reisado (popular dramatic dance), Lapinha (Nativity scene), Maneiro-Pau, cabaçal bands, Bumba-meu-boi and several dances are examples of popular expressions in town. The culinary highlight is baião-de-dois (beans and rice) with pequi, regional cheese and sun-dried meat with manioc.

Visitors can reach Juazeiro do Norte by BR-116, passing through 230 and 122 Federal Highways, and also the State routes CE-138, CE-371, CE-269 and CE-385. It is also possible to fly to Juazeiro, with arrivals in the airport of Juazeiro do Norte.


More information about Juazeiro do Norte
»http://www.juazeiro.ce.gov.br ; this used to be the official site of the city, but it has been down for some time.
»Juazeiro, Capital da Fé. Juazeiro, Capital of Faith; a guide for pilgrims.
»URCA - Universidade Regional do Cariri. Federal University. Campi in several cities in the Cariri area, including Juazeiro do Norte.

Source of information: State of Ceara Tourism Authority.

Top of Page