Praia do Futuro beach
Now that Google offers so many translation tools, this page won't be updated any more. For up to date information about Praia do Futuro, visit these pages in Portuguese: Praia do Futuro and praias em Fortaleza.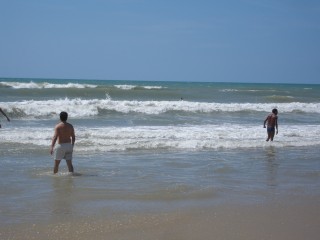 Praia do Futuro, Fortaleza.
Praia do Futuro means Beach of the Future, in Portuguese.

Praia do Futuro, unlike the other urban beaches, doesn't have a line of reefs and corals near the shore; thanks to this difference, it is the preferred beach of those who look for swimming and bathing.
Praia do Futuro is known by the barracas. Barracas are rustic restaurants which provide a beach chair, large parasol, basic food and drink; the barracas are usually rustic because they are built right on the sand beach, thus lacking the structure to grow much large; in Meireles and Mucuripe there are also several barracas.
In Praia do Futuro, the barracas used to be rustic until the early 1990s; with the growth of tourism, the owners made heavy investments in the barracas, and turned them into not only big restaurants, but something like a club by the sea.
The larger barracas have hundreds of tables, swimming pools and some even afford a stage, where local artists and popular bands perform.

Warning: Praia do Futuro is not as busy as the other urban beaches in Fortaleza, which makes it less safe. Tourists are recommended to hire taxis (avoid public transportation) to attend the night shows, and not to stray away from the barracas.
The problem is that in Praia do Futuro the salinity is very high, and the same wind which favor surfing and windsurfing carries the salinity into the continent. Metalic structures and electronic appliances have a shorter life span in Praia do Futuro, which explains why there are way fewer buildings in this area than in Iracema or Meireles.

Below, some photos of Praia do Futuro.


Praia do Futuro is the beach in Fortaleza where locals and tourists go for bathing, swimming and surfing. The water is cleaner, the waves are bigger, and the wind is stronger.

Entrance of some barracas. Notice that there is a fierce competition among the barracas, which may be offering some promotions. Above, in the middle photo, a crab was announced for R$ 1.99, and a beer for R$ 2.59, with live music shows; in the photo to the right, crab was R$ 1.50, beer was R$ 2.39, a dish of shrimp was R$ 13.99, and a dish of fish was R$ 14.90.

Above, photos of one of the largest barracas, which offer covered chairs, a small water park and even their own life keepers. Notice, however, that there are also several smaller barracas in between the larger ones; these smaller barracas do not offer the same service level, but the prices are much more affordable.

The barracas have tables inside the restaurant and outside, by the beach.
Praia do Futuro beach: more info
Some barracas have their own websites: Marulho, Chico do Caranguejo, Croco Beach