Paracuru beach

Fortaleza


Beaches in Ceara


Sun Setting Coast


See this map of beaches in the West Coast of Ceara.

One of the most beautiful beaches in the coast of Ceará, Paracuru, 89 km from Fortaleza, is the only town in the state of Ceará whose City Hall is located near the beach.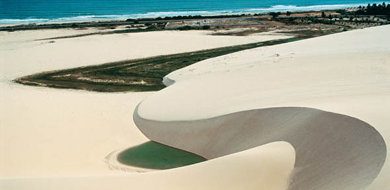 Dunes of Paracuru beach
It is located on the right bank of Curu River and the population is about 31,000 inhabitants.
In low tide, tourists can enjoy natural beauties and the biodiversity of the place, crossing the river branch with a water level covering the knees.

With many coconut trees and many aesthetically different places, Paracuru has inlets with showers, reefs, fish-traps, natural pools and jangadas. All year round, the beach is crowded by surfers searching for good waves and enjoying the regular winds and unique landscape. The inlets are ideal places to practice kitesurf.

The parties at the beach in the evening are highlights, they are promoted by local bars and restaurants.
Paracuru is also famous for its exciting carnival, attracting a great number of people every year with its traditional mela-mela party. Remember that people from Ceara love parties, and carnival is the biggest party of all; expect lots of people, loud music, plenty of drink.

Tourists arrive in Paracuru by CE-085 and CE-341.


A 360 degrees view of Paracuru beach.

Other movies (with sound):
»Kitesurfing in Paracuru.
»Sand boarding in Paracuru.


Hotels in Paracuru
»Hotel Dunas. Plenty of green, near the sea.

More information (open in new window):
»Paracuru Official Site. Maintained by the Secretary of Tourism of Paracuru. In Portuguese and English.

Source of photos and information: Tourism Authority of Ceara.