Meireles beach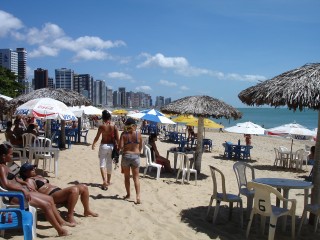 Meireles beach.
Meireles is the stretch of beach which surrounds the Feirinha de Artesanato (Handicraft Fair). The area is packed with hotels, restaurants, small shopping centers and other tourism oriented businesses.
Meireles has also a large concentration of barracas (rustic restaurants) by the beach; these restaurants serve good food and drink, but they are smaller than the big barracas of Praia do Futuro.

This area is busy all day long, and most of the night. People come to stroll and jogging early in the morning, for having lunch and dinner, to purchase handicraft and gifts in the Fair (in the evenings only), or to sit down and enjoy the scenery.

Below, some photos of the Meireles beach.


The main avenue is taken by the beach on one side and several modern hotels and tourist oriented businesses on the other side. The building in the photo to the left is Hotel Seara. The photo in the middle shows the area around the Feirinha. The white building to the right is a shopping center.

The walkways are wide. The barracas are built near the sand strip, and there is space left for people to stroll or rest on the several benches along the way.

Some barracas, seen from the walkway. The bigger barracas have an area under the shadow of the trees. Most barracas have toillets.

The barracas, seen from the sand beach. The levels of comfort and service vary from barraca to barraca. Waiters bring food and drinks to the customers.
Meireles beach: more info
Other sites about Meireles:

Hotels in Meireles beach. This is the area in Fortaleza with highest concentration of hotels.