Cumbuco beach

Fortaleza


Beaches in Ceara


Sun Setting Coast


Distance from Fortaleza: 28 km (17 mi)
See map of beaches West of Fortaleza.

Access to Cumbuco is by CE-085 and CE-090, or following avenues and roads alongside the coast from Fortaleza. There are also regular bus lines and many vans which pick up tourists in Fortaleza and drive to Cumbuco.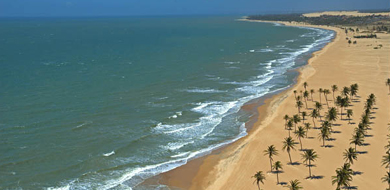 Line of palm trees in Cumbuco
Cumbuco is the first stop in the Sunset Coastline and it holds some exciting experiences that only the beaches of Ceará can offer; many of the jangadas anchored akibg the beach are available for rides in the ocean.

To go about Cumbuco, the best option is to rent a buggy with a guide and get to know the many dunes near the beach. Before exploring the sand ocean on a buggy, a question needs to be answered: "with or without thrill?" Regardless of what is chosen, there is surplus natural beauty. However, it is necessary to search for registered professionals at the local association.

One of the most famous attractions in Cumbuco is in the middle of the dunes, Banana Lagoon, where visitors enjoy many water activities such as kayak, speedboat and banana-boat rides.

Even though Cumbuco is still a small village, visitors can find a range of services in different categories and prices, among restaurants, hotels and inns.

Thanks to its attractiveness and the proximity with Fortaleza, Cumbuco is one of the areas in Brazil with the greatest presence of foreigners looking for a residence. This has caused a boom in the real estate and construction sectors. The site Save Cumbuco advocates a tighter regulation on this matter.


Cumbuco Movies

»Above: Kitesurfing in Cumbuco.
»Buggy ride. On board camera.
»Sand surfing down the dunes.


More information about Cumbuco
»Photos of Cumbuco. By a professional photographer.
»Hotels in Cumbuco.

Source: Tourism Authority of Ceara.