Canoa Quebrada

Fortaleza


Beaches

Canoa Quebrada, along with Jericoacoara, is one of the most famous beaches in Ceará and in Brazil.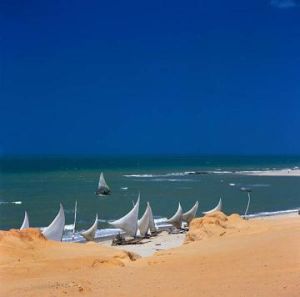 Canoa Quebrada
Located 12 km distant from the city of Aracati, Canoa Quebrada has been since the 1970s one of the best known and most visited beaches in Ceará. The dunes and falesias with heights of up to 30 meters (98 ft.) served as stage for several movies and soap boxes of the Brazilian cinema and television.

Back in the 1960s and 1970s, Canoa Quebrada was inhabited by fishers. The place became popular first among the hippies, who gave to Canoa an air of liberty and tolerance which can be felt until today. Next came the backpackers, both Brazilians and foreigners from all over the world, who fell in love with the beautiness of the region.
Many foreigners got married and settled in Canoa for good. Today, several businesses belong to foreigners and their descendants.

The popularity of Canoa caused the opening of several inns, restaurants and tourist services. During the day, tourists can drive around in a buggy, sail on jangadas, ride mountain bikes, go sandboarding, trek ecological trails, go fishing etc. The nights of Canoa are known for the animation and diversity.
The main street of Canoa, where most inns, restaurants ans shops are concentrated, is called Broadway.

To refrain the quick growth which could damage the environment, Canoa Quebrada was declared an environment protected area (Area de Proteção Ambiental de Canoa Quebrada), with an extension of 70 thousand hectares.



Buses to Canoa Quebrada