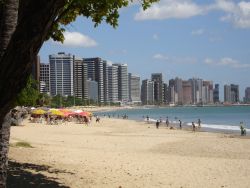 Fortaleza, the capital city of the State of Ceará, has been for decades one of the most popular destinations of Brazilian tourists. In recent years, the fame of Fortaleza has been gaining the world, and the number of Europeans, North and South Americans travellers coming to Ceará has grown fast.

What attracts so many Brazilian and foreigners to Fortaleza? Rather than pointing out one single reason, it is safer to say that visitors are attracted by a combination of the sunny beaches, the busy and safe nightlife, the delicious culinary, the rich Brazilian culture, the very peaceful and friendly people. On top of that, it's worthy mentioning that Brazil is free from natural disasters, and is a country with low cost of living.


Ceará. Located in the northeastern corner of Brazil, Ceará is the Brazilian State nearest Europe and North America. With more than 3 million people, Fortaleza is the fifth largest metropolitan area in Brazil.
Read a few other facts about Fortaleza and Ceará.

Beaches. Despite being one of smallest States in Brazil, Ceará has one of the longest coastlines in the country. Fortaleza has some of the nicest urban beaches in Brazil, while Ceará has well preserved, nearly wild, unexplored beaches. Read more about beaches in Fortaleza and Ceará.

What to see and what to do.
Besides enjoying the beaches, visitors can enjoy the nightlife, take city tours, go shopping, take short trips to neighbour beaches, and more.
Read about some of the tourism attractions of Fortaleza.

Hotels. With the recent boom in the tourism trade, Fortaleza saw a spike in the number of hotels. Massive investments, both by Brazilian and international groups, have built in the city one of the most modern infrastructure of hotels in the country. Read more about hotels and accommodation in Fortaleza.
Food, Drinks and Restaurants. Try the Brazilian cuisine: feijoada, churrasco, rice and beans. But don't forget that there are some dishes that are typical of the Northeast of Brazil, such as macaxeira, tapioca, carne de sol. Read more: food, drink and restaurants in Fortaleza.

More information. How to arrive in Fortaleza and how to move around. News about Fortaleza.
Read other information about Ceará and Fortaleza and the World Cup in Fortaleza.
Coming to Fortaleza? Consider extending your trip to the nearby cities of
Natal
and
Recife
.
Fortaleza and Ceará are bound to become one of the main travel destinations in the world.
Bookmark VisitFortaleza
and use it as an information source either to plan your trip or to guide you around the city.
Em Português: Fortaleza, Ceará