Blue Tree Towers Fortaleza Hotel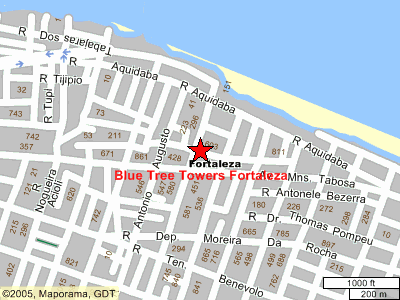 The Blue Tree chain operates hotels in nine Brazilian cities, including Brasília, Salvador, Recife and Fortaleza; check out the homepage of the Blue Tree Hotels.

The Blue Tree Towers Fortaleza is located 30 minutes from Pinto Martins International Airport and just one block from Praia de Iracema, famous for the busy nightlife. This hotel is committed to delight the guest with comfort, as well as professional and cordial services from its staff, in order to offer the most distinctive and unique experience in the area. Guests will find the area convenient to numerous attractions, and there are a variety of restaurants to be found in the area.

The Blue Tree Towers Fortaleza provides elegant rooms, all with air-conditioning, two phone lines, internet access, in-room safe, cable television and mini-bar. The hotel also features entire floors of exclusively non-smoking rooms. The nightly rate includes a delicious, buffet-style breakfast. Come experience the quality and comfort that can be found at the Blue Tree Towers Fortaleza.