Ecologic tourism

Fortaleza


Ceara


Tourism in Ceara


Tourism in Fortaleza


The State of Ceará is always concerned about preserving natural resources. Government, civil society, companies and non-governmental organizations work for the preservation of the charming landscapes in the State. In order to achieve these objectives, some areas were nominated National Parks and Protected Environments, under the coordination of governmental agencies.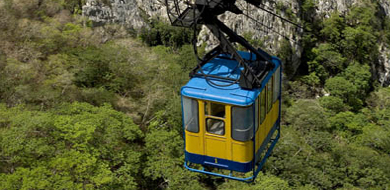 Ubajara Cable Car, at the Ubajara National Park
The National Parks were created to preserve completely natural areas and their ecologic, esthetics, scientific, cultural, educational and recreational aspects. With 563 hectares, Ubajara National Park is an example of the conservation of a humid forest in a semi-arid region; at the park, tourists can appreciate the caatinga (brushwood), the cerrado (Brazilian savannahs) and the Atlantic Forest, before visiting the mesmerizing Ubajara Cabe.
Another important National Park is located in Jericoacoara. It was created to preserve a coastal area and it has an area of 8,416.08 hectares.

The Protected Environments also contribute for the preservation of the natural resources in the State. Their objective is to discipline the process of land occupation, protecting nature and guaranteeing the wellbeing of the population. Ceará has three Protected Environments, which comprise several kinds of ecosystems: Araripe Tableland (backwoods, the Sertão), with an area of 1,063,000 hectares, Jericoacoara (beach) with 6,443 hectares and Ibiapaba Mountain (mountain) with 1,592,550 hectares.