Baturité

Fortaleza


Ceará


Cities of Ceará


Distance from Fortaleza: 93 km (58 mi).

Situated at the foot of Baturité Mountains (Serra de Baturité), with an altitude of 175m above sea level, this town, used to be one of the richest in the State during the coffee epoch. Today, full of farms, the town explores fruit growing and horticulture very well. Baturité has one of the last reserves of Atlantic Forest in Ceará and the natural surrounds make it a perfect place for Ecotourism.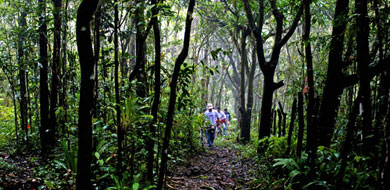 Ecological trekking in Baturité
It is the ideal place to go for walks on ecologic tracks, where it's possible to watch Nature closely, breathe fresh air and enjoy the cold weather. Amid the beautiful landscape, tourists have the opportunity to become familiar with the Volta, Frade and Perigo Waterfalls.

Willing to know the history of the town, tourists can visit monuments such as the holy path with 365 steps, the Apostolic School of the Jesuits, also known as the Jesuits' Monastery (Monastério dos Jesuítas) and Jesuits Hotel (Hotel Parador dos Jesuitas), Commander Ananias Arruda's House and also Serra do Vicente Archaeological Site.

93 km from the capital and with approximately 31.1mil inhabitants, Baturité has a rich bamboo handcraft. For tourists who like or want to learn about forró, there is the famous Chitão party, which happens every year during the June Festival, with big forró bands, attracting thousands of people. Access to the town is possible by the highways CE-060 and CE-356.


Jesuits Hotel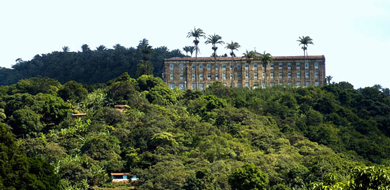 Hotel Parador of Jesuits
For those searching for a peaceful place in the mountains, the ideal place to stay is in Baturité, at the Jesuits Hotel. The construction, made of stone, was finished on August 15th, 1927 and is searched by those who want peace and quiet. Until 1963, the location was a school for Jesuit priests.

Still run by Jesuits, the hotel has an ideal structure for events. At the place, visitors can enjoy the beautiful garden and a vegetable garden and there is a privileged view of the towns of Baturité and Aracoiaba. More information on the phone 00 55 85 3347-0368.


Chitão Party
The employees of a tile factory, 10 km away from Baturité, started this party 20 years ago with only a music triangle, a bass drum and an accordion. Nowadays, Chitão de Baturité has become one of the most important events in the calendar of the State. This traditional forró takes place during the June Festival, attracting thousands of tourists to enjoy the dance in the cool weather of the mountains.
There is a Chitão party in a few cities of Ceará, all happening in the month of June (see a report by newspaper O Povo about Chitão in 2007). The Chitão of Baturité is the most popular because it is the nearest to Fortaleza and also because the cold climate helps create a good atmosphere for the party.


Baturité Railway Station
The steam train arrived and then departed loaded with sacks of coffee. This was the routine at Baturité Railway Station, the strategic equipment for coffee production flow from the countryside to the Cearense capital. This station was one of the first built in Ceará, in 1870. Today, this place preserves some of the equipment from that time, such as the steam train, besides maintaining its building architecture. At the station, there is a handcraft center where tourists can purchase products made in town.

Source of information: State of Ceara Tourism Authority.

Top of Page